Recently changed IP subnet range in the local network and turned out one of the Windows servers was not able to connect its iSCSI disks from the Synology NAS. When trying to rediscover from the iSCSI Initiator there following error was present:
Initiator Instance Does Not Exist.
Resolution was to uninstall the Microsoft iSCSI Initiator storage controller from device manage and install it again.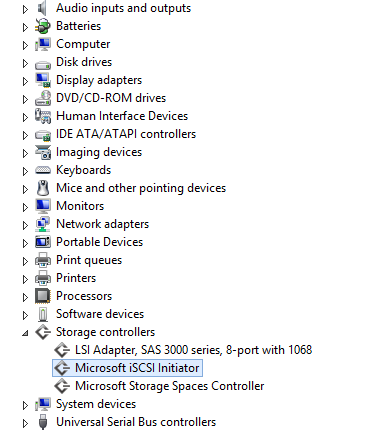 Steps:
Right Click Microsoft iSCSI Initiator and click Uninstall.
Right click the computer name and click Add legacy hardware.
Click Next.
Select "Install the hardware that I manually select from the list (Advanced). Click Next.
Select Storage Controllers from the hardware types list.
Select Microsoft as Manufacturer and Microsoft iSCSI Initiator as Model.
Click Next twice. and wait the device to install.
Use the iSCSI Initiator to connect to your iSCSI Target.